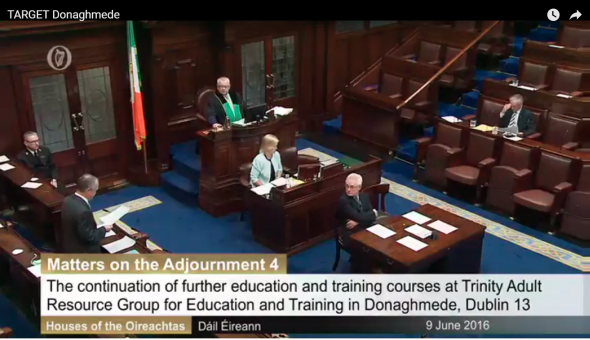 Thursday June 9th 2016
A wide range of community services provided by TARGET in Donaghmede, including adult education, are at risk due to  accommodation issues. Herewith is my contribution in Dáil Éireann on the matter.
 Deputy Seán Haughey: I wish to bring to the attention of the House a serious matter that has developed in Donaghmede, Dublin 13, in respect of further education and community education services.  The Trinity Adult Resource Group for Education and Training, TARGET, is based at St. Kevin's national school in Donaghmede and has been at this location since 1993, that is, for 23 years.  It provides vital services to the community of Donaghmede and surrounding areas.  These services include adult literacy for early school leavers and other adult learners experiencing difficulties in this area, a counselling service, counsellor training, community child care, English classes for non-nationals, community education and computer classes for the elderly.  A community employment scheme with 30 participants also is based at TARGET.  Some of these community employment scheme participants are outsourced to other community groups in the parish and play a vital role in community development.
It appears as though the host school, St. Kevin's, is under pressure for space.  There was a previous agreement whereby TARGET would cede two classrooms back to the school for September 2016.  However, TARGET received a letter from the school at the beginning of this month requesting that all the space be returned to the school by 30 June this year.  In short, TARGET has been asked to vacate the building at very short notice.  This has come as a severe blow and could lead to the loss of vital services in this area.  Funding streams will be put at risk and employment could be lost.  I thank the Minister for Education and Skills for his attendance this evening.  He obviously is a local Deputy like me and I ask him to use his good offices to try to reach a negotiated agreement with the various parties with a view to solving this problem.  At the very least, TARGET needs more time to try to deal with this difficult situation.  It is clear that St. Kevin's national school requires more space.  Perhaps a different solution can be found to ensure the school has the necessary capacity and I believe this must be explored further.  It may also be that alternative facilities can be found for TARGET.  I understand that a formal letter will be sent by TARGET in the near future to St. Kevin's school asking it to reconsider the matter.
In a previous life, I was Minister of State at the Department of Education and Skills with special responsibility for adult and further education and training and I am, therefore, very much aware of the importance of adult literacy and community education.  This plays a crucial role in disadvantaged areas in particular as regards personal development and has positive benefits for society as a whole.  The loss of these services in Donaghmede would be devastating.  Consequently, I ask the Minister to use his good offices to try to sort out this matter as the situation is urgent.  He also, for example, could consider asking the City of Dublin Education and Training Board, CDETB, to intervene with a view to solving these difficulties.  This requires a diplomatic solution and while I do not wish to tread on any toes in this regard, the services are well worth saving.  With a little goodwill on all sides, a practical solution can be found.  I look forward to hearing the Minister's response to this urgent matter.
Minister for Education and Skills (Deputy Richard Bruton): I thank Deputy Haughey for raising this important issue.  I note neither the education and training board nor the Department had any advance notice that this issue was likely to occur.  The City of Dublin Education and Training Board has been working with TARGET for a long time and, as the Deputy noted, it has been providing further education and training in Donaghmede for more than 20 years.  It was located in St. Kevin's school, Newbrook Road, Donaghmede, and it provides a wide range of courses which the Deputy has outlined and I do not believe I need to repeat them.  As he indicated, they include services that go well beyond the remit of the Department of Education and Skills into counselling, child care and many community services but they are supported specifically in respect of adult education provision by the CDETB.
I am aware of the pressure of school enrolments on St. Kevin's junior school because it has experienced a 57% increase in the period between 2011 and 2015 and that trend is continuing.  In that context, the school submitted an application in June 2015 to provide for the refurbishment of existing spaces to create two classroom-sized spaces to create a mainstream classroom and a resource room for special education.  My Department examined and approved that application and the funding was provided.  This latest decision by St. Kevin's, which has written to TARGET informing them that the school is not in position to renew the lease into the future, has come as news and obviously creates difficulties for TARGET in continuing its work.  I have been in touch with the CDETB and it will make contact with representatives of TARGET to discuss what are the possible options, bearing in mind the pressures that exist.
As the Deputy requested, I will explore what solutions can be found to ascertain whether the service can be continued, as it has been delivering a valuable service for a considerable time and the notice they have received has been extremely abrupt.  I undertake to pursue this matter, as the Deputy suggests, to establish whether a solution can be found that would allow this to continue.  While I do not have a specific course of action I can recommend to the Deputy at this stage, I thank him for raising the matter and I assure him I will give it attention