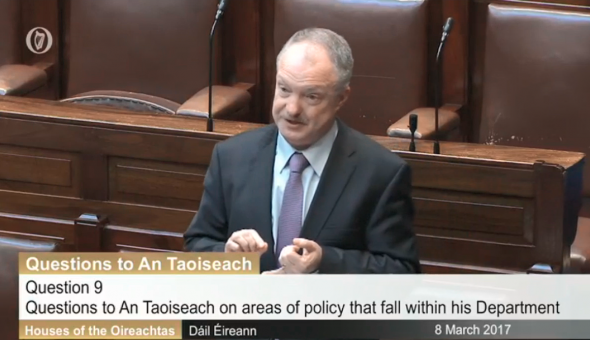 Questioning the Taoiseach on the Stardust Inquiry in Dáil Éireann on Wednesday 8th March 2017
Deputy Seán Haughey: I think most Members would welcome a report in regard to the number of tribunals of inquiry and commissions of investigations that are underway at present, or even if we could be told where to find that information.
While I appreciate it is not under the ambit of the Department of the Taoiseach, I want to refer to the possibility of a commission of investigation into the Stardust fire in 1981.  I welcome the fact the former Deputy and Justice, Mr. Justice Patrick McCartan, has been appointed to do a scoping exercise.  In the Taoiseach's capacity as head of Government, can he give an assurance that Mr. Justice McCartan will be allowed to carry out his work independently, given there are suggestions previous scoping exercises were interfered with by the relevant Department.  Hopefully, he can carry out his work independently.  Then, should he find that a commission of investigation is necessary, I ask that this be proceeded with without delay.
The Taoiseach: I will have a report circulated or made available to all Members on all the tribunals and commissions of investigation that are currently underway by Government across the entire spectrum.
I can confirm for Deputy Haughey that the appointment of the former Deputy, Mr. Justice Patrick McCartan, was on the basis of his being a person of integrity and credibility who is trusted by the relatives of Stardust victims as being a fit person to carry out this scoping exercise.  It is important to say that the issue which was flagged very strenuously at Government by the Minister of State, Deputy Finian McGrath, was that the scoping exercise of Mr. Justice McCartan is to investigate the new evidence that has come to light through the relatives of the victims of the Stardust fire.  Mr. Justice McCartan will be allowed to do his work completely independently and there will be no interference from the Department in his work.  I understand he will be able to do this pretty expeditiously.  If he decides and recommends, on the basis of that new evidence, that a commission of investigation is warranted, then that is the decision of Government.  However, it was only right and proper to reflect, analyse and scrutinise the new evidence available and to see whether that warrants a new commission of investigation.  If his recommendation is that it does, that is what will happen.