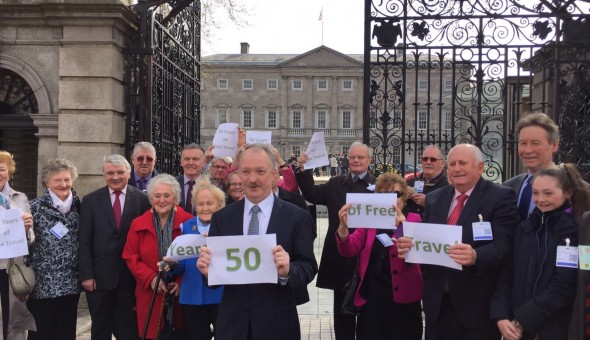 Rush Hour Restrictions for Travel Pass Holders will not Address Transport Issues
-       Any re-introduction of restrictions would be a hugely regressive move -
Dublin Bay North TD, Sean Haughey has said that Fianna Fáil will oppose any attempt to introduce restrictions on public transport use for Free Travel Pass holders.
Deputy Haughey was responding to a proposal mooted by the Department of Public Expenditure & Reform to ban the use of free travel passes on public transport during peak times.
He said, "The Free Travel Pass is a core social protection benefit for many vulnerable people and enables those who rely on it to retain their independence, participate in their communities and it helps to prevent loneliness and isolation.
"Re-introducing the ban would be a hugely regressive move, not to mention discriminate against those with a disability and those that have paid into a tax system most of their lives.
"Rush-hour restrictions for travel pass users were once in place for close to 40 years until former Fianna Fáil TD and Social Protection Minister; Seamus Brennan lifted the ban in 2006.
"While such a measure might aim to create more space for commuters on overcrowded public transport, any such move could in fact hinder many over-65s from attending hospital appointments or other essential arrangements.
"It is wrong to assume that pass holders would have other alternatives to travel – some live independently, with life-altering disability or survive on the old age pension and might not be able afford taxis.
"Restricting travel use for those with passes is not the solution to alleviating over-crowded public transport, particularly in Dublin and neither will it address any shortage of bus services in rural areas," he concluded.