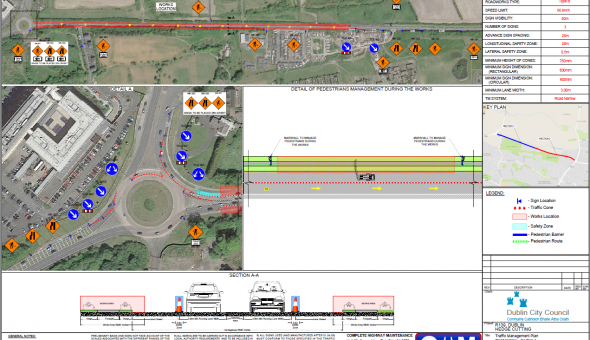 Major Clean-up of R139 Welcomed
The  R139, which connects the M50 to Clare Hall, is a significant road on Dublin's Northside. It carries a huge volume of traffic and is an important link to North Dublin communities. However, it is a complete eyesore due to the amount of litter in and around it at this time.
In recent months I have been pressing Dublin City Council to take appropriate action in this regard, I have raised this matter through my colleague, Cllr. Seán Paul Mahon, in September and I am delighted that a major clean-up of the road and footpaths will be carried out in the coming weeks. In addition, the roadside trees and verges at this location will be cut back.
North Dublin is entitled to the same level of services being delivered throughout the city as a whole and this initiative indicates that this is now the case.
- Release from Dublin City Council  – 01.12.17 -
The Public Domain Team North Central Area have arranged for an intensive works programme to be undertaken on the R139 over the coming weeks to improve both the visual aspect and pedestrian access on this route.  Planning for this programme has been ongoing for a number of weeks and a collaborative approach adopted with Waste Management, Gully Management, Travellers Section and Parks Department all working together on the project.
The work will be carried out by a mix of direct labour and contractors (funded by North Central Area).  The initial phase of the works will be carried out on the weekend of the 2nd and 3rd of December with Waste Management assisted by Traffic Management Company tackling the litter and dumping along the stretch from the Malahide Road to Clonshaugh Road.  This will involve a manual litter pick and a grab lorry, a mechanical sweeper will also sweep either side of the route and all around the traffic islands.  The road will not be closed but in stages will be reduced to one lane.  Works will commence at 6am and be finished by 1pm each day.
It is proposed that the roadside trees and verges will be pruned and cut back in the second phase which will be followed by an intensive gully cleaning (approx 200 gullies).  The final phase will be another full cleaning of the route by Waste Management.
This is a large undertaking by the North Central Area Public Domain Team and we are hopeful that works will be complete by mid-January."