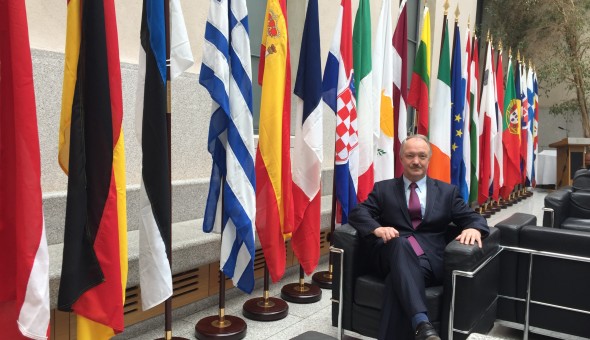 -       92% of Irish people believe should remain a member state of the EU -
Fianna Fáil TD and Spokesperson on European Affairs, Sean Haughey has said that the progressive future of Europe is hinged on member states including Ireland playing a central part in the constructive debate regarding reform of the European Union.
According to a study carried out by European Movement Ireland, public support for Ireland remaining in the European Union is at an all-time high.
Speaking ahead of this evening's Dáil debate on the future of the EU, Deputy Haughey said, "Since 1973, Ireland has been strengthened by its membership of the European Union or as formerly known, the European Economic Community.
"The European Union's institutions have offered sustained investment in many facets of Irish culture and society.
"Over the past 45 years, Ireland has had the opportunity to flourish and progress as its own nation but all the while EU membership has remained at the core of our heritage.
"European Union structural funds have vastly improved our infrastructure and unrestricted access to the European Single Market, the largest international single market in the world, has transformed how we trade, study, travel and work.
"Sustained investment in ground-breaking research projects, clean beaches and safer roads initiatives, cheaper air travel, more stringent regulation of banks, broader tourism links and stronger employment and consumer rights offer just a glimpse of the variety of benefits Ireland has gained.
He added, "As the British exit from the European Union looms, Ireland's membership will play an essential role in safeguarding our unique interests.
"While our party remain staunchly committed to retaining European Union membership, radical reform is crucial to preserve a long and prosperous future for Europe.
"He concluded, "Over the coming months, Ireland more than ever must step up and play an integral role in the debate on shaping the European movement."