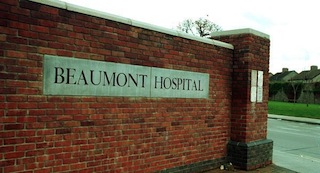 Cystic Fibrosis Facility Approved for Beaumont Hospital
Fianna Fáil TD for Dublin Bay North, Seán Haughey, has received confirmation from his party colleague and Minister for Health, Stephen Donnelly, that €22.2m in funding will be provided for 15 projects across Dublin Bay North under the Health Capital Plan 2021.
Beaumont Hospital will receive €21.56 million for various projects including the much anticipated 20 bed purpose built Cystic Fibrosis in patient facility, which has been granted planning permission.
Under the plan, which will be announced in the coming days, €700, 000 in funding will be provided for a new Emergency Department (ED) and reconfiguration of the existing ED at Beaumont Hospital, €1m will be invested to provide for the construction of a new 95 inpatient bed accommodation, and over €10m has been earmarked for the provision of Phase 2 Radiation Oncology facilities.
Other important local projects include the construction of a 30-bed purpose-built Psychiatry of Later Life Facility in North Dublin (site to be identified), the refurbishment and the expansion of the Kilbarrack Primary Care Centre, and €100,000 for the redevelopment of existing CRC Facilities in Clontarf.
Deputy Haughey commented, "I welcome this important health funding for Dublin Bay North. These projects are much needed, and I have actively campaigned for them as a local TD. The provision of a 20-bed purpose built Cystic Fibrosis in patient facility in Beaumont Hospital is particularly welcome and long overdue.
"The scale and variety of the projects being undertaken demonstrates Fianna Fáil's commitment in Government to the health service of this country.  I will continue to work with all stakeholders and the Department of Health to ensure that these facilities are in place as soon as possible and I will continue to push for further investment in the area,'' concluded Deputy Haughey.
-ENDS-
Note: Please find details of listed projects below.
DUBLIN BAY NORTH – CAPITAL PLAN FOR HEALTH 2021
CRC, Clontarf - Redevelopement of existing CRC Facilities, Roof & Fire Safety Works
0.10M
Kilbarrack Primary Care Centre - Refurbishment, reconfiguration & extension of Kilbarrack Primary Care Centre on existingPCC site
0.39M
Site to be identifeid - Construction of 30 bed purpose built Psychiatry of Later Life Facility in North Dublin (replacingO Casey rooms, St V Fairview)
0.15M
Beaumont Hospital - 20 bed purpose built Cystic Fibrosis in patient facility (PP granted)
2.50M
Beaumont Hospital - Construction of a new 95 Inpatient Bed Accomadation. The project will include 19 ensuite bedrooms per floor, with 2 per floor facilitating full isolation, full support facilities along with a component of back up stores and staff changing along with relevant building
1.00M
Beaumont Hospital - Development of a specialist Neuro Interventional Radiology Thrombectomy Service (2Rooms)
2.99M
Beaumont Hospital - Emergency Department Treatment Bay – reconfigure space to provide additional assessment bays 9 and remodel existing space in ED to expand existing general waiting areaOn Pandemic Plan – 08/10/2020
0.73M
Beaumont Hospital - Freehold Acquisition of Beaumont Convent & upgrade for admin accommodation
1.52M
Beaumont Hospital - Fire Alarm & Emergency Lighting Upgrade
0.10M
Beaumont Hospital - Infection control works – Refurbish fabric and fittings of Sanitary Facilities on a rolling program,over a 5 year period
0.50M
Beaumont Hospital - New Emergency Department and reconfiguration of existing Department
0.70M
Beaumont Hospital -Recovery area necessary to satisfy C-19 requirements and creation of 16 (additional) endoscopy beds. Refurbishment of St Raphaels ward to accommodate 16 beds.On Pandemic Plan – 08/10/2020
0.72M
Beaumont Hospital -Respiratory & Infectious Disease Assessment Unit – reconfigure open ward area to provide isolation cubicles and support rooms for respiratory assessment and direct admission.On Pandemic Plan – 08/10/2020
0.52M
Beaumont Hospital -& Connolly – Cabling & building work to enable installation of WIFI & Medlis
0.05M
Beaumont Hospital  Radiation Oncology – The provision of Phase 2 facilities at Beaumont Hospital.
10.23M