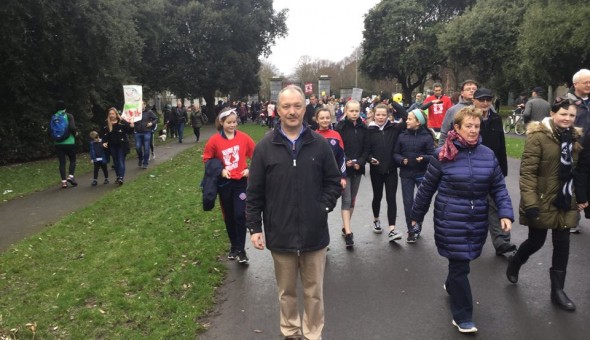 Haughey Objects to High Density, High Rise Raheny Development
- The proposed 5-8 storey high blocks will have major adverse impact on the area -
Local Fianna Fáil TD, Sean Haughey has expressed his strong opposition to the proposed plans for development of St Anne's Park, Raheny and has said that they are contrary to the proper planning and development of the unique neighbourhood.
Commenting on the plans, Haughey said, "It is clear from the thousands of locals who gathered at last Sunday's organised protest, that this proposed development will be staunchly opposed by the whole community.
"A large scale residential development such as the one presented for the playing fields at St. Paul's College is totally inappropriate for a Z15 zoning.
"It is my firm belief that the proposed development should be therefore deemed as a contravention to the Dublin City Development Plan 2016-2022.
"The playing pitches at St. Paul's College which are attached to several local sporting clubs and organisations have been used by hundreds of children each week.
"Losing these lands to pave way for a large scale residential project will result in a serious loss of recreational amenity space. Given that there is already ever increasing demand for pitches in our area, Dublin City Council will not be able to provide alternative playing facilities in St. Anne's Park if these plans proceed.
"The recreational impact is just one of the adverse effects which are likely to be caused by this development. The existing traffic congestion will undoubtedly deteriorate while the Dublin Bay Biosphere and surrounding environment may be left adversely affected.
"There is no denying that there is a chronic shortage of homes across Dublin but simply allowing poorly considered development plans to proceed without scrutiny or consultation with existing residents is not the appropriate response.
He concluded, "It is my hope that the proposals will be rejected by An Bord Pleanála and I urge all locals to make their objection known to the national planning agency before next week."