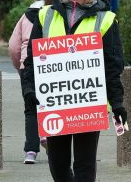 My input on the Debate in Support of Tesco Staff in Dáil Éireann on Tuesday 28th February 2017
Tesco is one of the most profitable retailers in the Republic of Ireland.  It employs 14,500 staff nationwide in 139 stores.  It generated €1.2 billion of sales for the first six months of 2016.  It is completely unacceptable for Tesco management to change the existing employment contracts of staff unilaterally without their agreement.
There are just under 300 workers on the pre-1996 contracts.  They will see their wages drop by 15%.  Seventy per cent of the Tesco workforce is female and, by and large, they are not particularly well paid.  I visited the workers picketing outside Artane Castle last week.  Those workers on pre-1996 contracts were joined by their colleagues who feared they would be targeted next if this protest failed.  It was a freezing cold day and it was very regrettable that they were forced to take this action.
The attitude of Tesco management is very worrying in Ireland of 2017.  This dispute has national implications in that established industrial relations practices must be adhered to and defended.
I also question the need for full page advertisements in the national press.  Tesco management would have been much better off giving that money to charity.
It is clear to everybody that Tesco management has behaved in an unjust and unfair manner and I congratulate the workers and their unions for taking a stand, not just for themselves but for the future staff of this company and similar companies in the retail sector.  The dispute needs to be resolved once and for all and I welcome the fact that some talks took place last Friday.
I understand that IBEC and ICTU will now engage in intensive discussions through the Labour Court.  This action has huge public support, something I witnessed in Artane Castle last week when shoppers refused to pass the picket and motorists honked their horns.  This level of public support was underestimated by Tesco management and no amount of spinning, in the form of full-page advertisements in the national press, can change the reality of the dispute from the perspective of the public. The Government can no longer remain neutral.