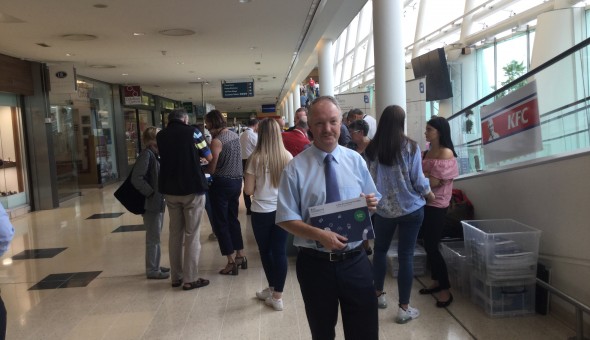 BusConnects
The National Transport Authority has published a radical plan to transform Dublin city bus services.
Constituents have conveyed to me their serious concerns in respect of these proposals. Many commuters will no longer have a direct service into the city and will be required to interchange.
In addition, traditional routes used by existing bus users to get to major facilities such as Beaumont Hospital and DCU are altered or discontinued altogether.
The closing date for submissions to the NTA as part of the public consultation process was September 28th 2018. It is understood that revised plans are now being considered and will be published sometime in mid-2019.
I will continue to monitor this situation on behalf of my constituents in Dublin Bay North.
In the meantime, you can view my own submission to the NTA below.
BusConnects Network Redesign
National Transport Authority
Harcourt Lane
Dublin 2
D02 WT20
A Chara,
I have studied the Bus Connects proposals and the stated overall aims and objectives of this plan.
However, in my capacity as a Dáil Deputy for Dublin Bay North, I have been contacted by a large number of constituents who are very concerned about the proposed changes as they affect their own areas.
In summary, many bus users who currently have a direct service into the city centre from where they live will have to change busses to reach their destination. These commuters will now be required to get at least two busses (or other forms of public transport) in order to complete their traditional journeys. The required interchanging will cause great inconvenience for elderly and disabled passengers in particular. In some cases less mobile passengers are being asked to walk long distances in order to undertake their primary journeys. There is a fear also that the proposed interchanges will not have sufficient capacity to facilitate the increased numbers and that the required traffic infrastructure, such as new bus stops, bus shelters, seating, kerbing, and pedestrian operated signals, will not in fact be put in place on time at these locations.
Finally, traditional routes, used by many existing bus users to get to major facilities such as Beaumont Hospital and DCU are altered or discontinued altogether.
There are specific concerns in relation to the following areas and existing bus routes:
No. 31, 31A and 31B – Servicing areas in Howth/ Sutton
Bus users will no longer be able to go directly to the city centre from Howth/Sutton and will now have to interchange at Raheny, Brookwood Avenue or at the Artane Roundabout on the Malahide Road.
No. 27A – Servicing Edenmore, Raheny
Commuters won't be able to travel directly into the city and will have to interchange at the Artane Roundabout, Malahide Road.
No. 29A, 31, 31A, 31B and 32 – Howth Road, Raheny
For passengers living beyond Raheny Village outbound, there will be no direct bus service to the city centre and the will now have to interchange in Raheny Village.
No. 14, 16, 17A, 27 and 27B – Servicing areas in Santry, Coolock, Kilmore, Clonshaugh, Beaumont, Artane and Ardlea
Many bus users will no longer be able to get one bus to the city centre and direct access to Beaumont Hospital and routes serving the complex (main entrance) will be reduced or discontinued altogether.
No. 104 and 32x – Clontarf Garage, Beaumont Hospital and DCU
These routes are being altered causing inconvenience to passengers.
It should also be pointed out that the plan as it relates to Clongriffin and the Red Arches in Baldoyle (proposed route 290 and 291) is dependent on a new road infrastructure being put in place and it does not look likely that this will happen in the foreseeable future.
I am aware that constituents who have been in touch with me directly have also made individual submissions to the NTA and I hope that these will be given serious consideration.
The need to constantly improve and update the bus service in Dublin is recognised. However, it is not practical, or politically acceptable, to completely scrap an existing network and replace it with a totally new one. Travel patterns have built up over generations and many new householders have made their decisions about where they live, work and study on the basis of the existing network.
It has to be accepted that we do have a meandering bus service in Dublin but any changes should be made incrementally and in real and meaningful consideration with local communities.
Yours sincerely,
Seán Haughey TD
FF Spokesperson in European Affairs
26th September 2018