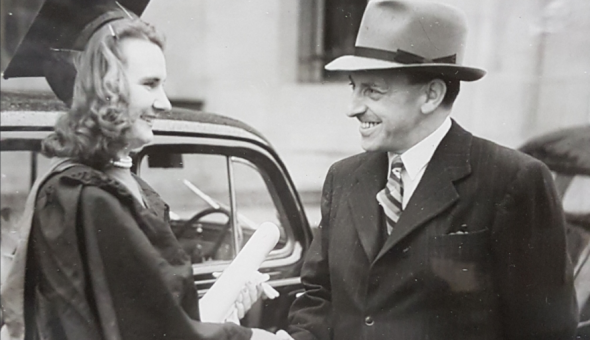 Micheál Martin TD
Uachtarán Fhianna Fáil
 Óráid i gcuimhne ar Mháirín Uí Eochaidh
21ú Márta 2017, Baile Átha Cliath
Oration in memory of Maureen Haughey
21st March 2017, Dublin
A Mhuintir Uí Eochaidh, a bhaill an Chléir, a dhaoine uaisle uilig, táimid bailithe le chéile inniu sa reilig seo chun ómós macánta ó chroí a thabhairt do bhean suntasach iontach a ghlac príomhról tábhachtach lárnach i stair na hÉireann, mar iníon Taoisigh, bean Taoisigh, máthair ghrámhar agus cara dílis do mhórán daoine a raibh sé de phribhléid acu bualadh le Máirín.
Bean chaoin cheansa, fháilteach ba ea í le bua na féile, agus ina theannta sin do bhí dínit uasal séimh ag baint léi.
Is cuimhin linn go léir an spéis ollmhór a bhí aici i ndaoine agus an grá don nádúr agus don saol timpeall uirthi. Mar is eol dúinn, thaitin na capaill agus pór na madraí go mór le Máirín.
Ar feadh a saoil fada, chonaic Máirin buaicphointí tábhachtacha i stair ár dtíre agus bhí sí mar cheangal láidir leanúnach idir míle naoi gcéad sé déag.
To those who didn't know her, Maureen Lemass Haughey could seem like a quiet and reserved figure.
She was not.  However, she did not seek to be in the spotlight.
She never sought to claim or exploit mandates won by others in her family.
Through her 91 years she witnessed and often participated in events and movements essential to the growth of our independent state.
The Lemass family into which she was born in 1925 was already well known.
In the years ahead it would become even more prominent and would also be defined by an unmatched commitment to the progressive development of Ireland.
At the heart of this was a deep concept of public service. This wasn't some cold and abstract ideal – it had a very real foundation in being loyal to the ideals of fallen comrades.
During last year's centenary events Maureen attended as many as she could and spoke of what it meant to be the daughter of a 1916 volunteer. She said then that her father didn't talk much about the rising but that the memory of those he served with was constantly with him.
We look at great historical events and see the heroism. For Seán Lemass and his young family the struggle for independence gave cause for great pride, but it always carried the pain of loss and sacrifice.
The Lemass family suffered immensely in those years through a series of tragic losses. The death of Maureen's uncle Noel would in any other family have been the cause of great bitterness and anger.
However, Seán chose a different way and this was central to the drive and originality which defined his entire political career.
For him nothing could be more disrespectful to our revolutionary leaders than to imagine them as cold and inflexible people committed to an unchanging programme.
This was an opinion shared by the entire Lemass family, as can be seen in the work of Maureen's uncle Frank in developing state enterprises.
Her father was in every way a practical republican who understood his duty to respond to today's circumstances – to not just preserve the republican tradition but to constantly renew it.
When his first child Maureen was born he was involved in persuading others of the need for a radical new programme and to move on from the days of conflict.
Within a year, under the leadership of Eamon deValera, he helped to write such a programme and to found a new political party dedicated to implementing it.
In those early years the demands of politics and government often took Maureen's father away from his family. Her mother Kathleen was the family's rock. What has often been missed is that she shared in his work and in his beliefs.
When they married he had the reputation of being something of a hot-head – the exact opposite in fact of how he was during his long public career.
This would not have been possible without the strength, support, and guidance of Kathleen.
Those early years were full of excitement and positive ambition. Maureen was a close observer as her father assumed ministerial office and energetically went about building new industries, ensuring that the country could eat and meet its basic needs during the Second World War. He also undertook most of the practical work in building up a political organisation which went well beyond its base in order to win the support of a majority of the people
The Lemass house was a liberal one in terms of showing respect for people of all backgrounds and always being open to new ideas. Maureen personified this throughout her life.
Patriotism and service were the defining ideals which Seán and Kathleen passed on to their children. They encouraged their children to have inquiring minds, to study, and to be active readers.
Maureen was the first of her family to go to university and she did so at a time when it was still exceptional.
She attended UCD at an exciting time. Many of her contemporaries went on to achieve political and artistic prominence. While she studied commerce, her love of literature was cemented at this time, as was her interest in discussing and understanding Irish history.
It was also in UCD that she met her future husband Charlie Haughey. When he passed away in 2006 they had been married for 55 years.
Together they raised Eimear, Conor, Ciarán and Seán and saw them, in turn, start families. She was a constant and active support to him in his political career; whether at election time, knocking on doors and engaging with people on the ground, or supporting him as one of the most reforming cabinet ministers of his generation, as party leader, and as Taoiseach.
Just as had been the case with her mother, Maureen did not seek the limelight and did not want to exploit her position to claim some form of separate personal mandate. But nonetheless she did play an important role.
When Charlie Haughey was Taoiseach, Maureen's home was always a welcoming one for people of different ages and backgrounds. Not widely understood is how she was a great informal diplomat – working to put people at ease and helping to create a positive atmosphere.
I am reliably informed that at times there might be trade unionists in one room while the employers were in another – or sensitive delegations from London or Brussels had to be looked after. She never once failed to show visitors that they were welcomed and respected, irrespective of whether the guest was François Mitterrand, Bob Hawke, or a constituent with particular issues.
Her children's friends will always remember her warmth, active encouragement, and interest in their lives.
Maureen was not a politician but she was always politically active.
In the council elections, by-election and general elections which Charlie Haughey fought over forty years she was always present, with her focus being first and foremost on the welfare of the foot soldiers, as well as having that sharp electoral antenna which oozed from her DNA.
Indeed in the last General Election she knew every detail of that campaign, both nationally and in Dublin Bay North, where she was thrilled to see her son Seán returned to Dáil Éireann.
In later years she attended party functions nationally and throughout the country with enthusiasm and a spirit of wanting to talk with, and listen to, whoever she met.
And just as she was always encouraging the next generation to become active in politics, she was highly supportive of efforts to increase the voice of women within Fianna Fáil and in wider elected office.
In this she showed the spirit of her father in believing in a politics which evolves with society –a politics which is inspired by the past but is never afraid to move forward.
It was particularly satisfying for Maureen to see her grandchildren participating actively in Ógra Fianna Fáil and out canvassing enthusiastically in the last General Election. Maureen was comfortable in the knowledge that the torch has truly passed on to the younger generation.
Maureen Lemass Haughey was not a loud voice but she was an important voice.
She was an active representative of a great republican family and tradition.
She showed respect for others and her loyalty and friendship was valued by all who knew her.
She was always interested – informed and inquiring.
She was stoic, dignified and considerate.
This daughter of the revolution saw many good days and many tough days in her life.
She was proud of her family and its work for Ireland for over a century.
She was, in so many ways, an exceptional person whose life we should honour and whose memory we should always hold close.
A Mháirín, táimid fíorbhuíoch díot as a bhfuil déanta agat ar son do theaghlaigh agus ar son na tíre seo. Bhí an t-ádh orainn go raibh aithne again ort agus ar do phearsantacht uasal séimh.
A dhaoine uaisle, ar dheis Dé go raibh a hanam dhílis.