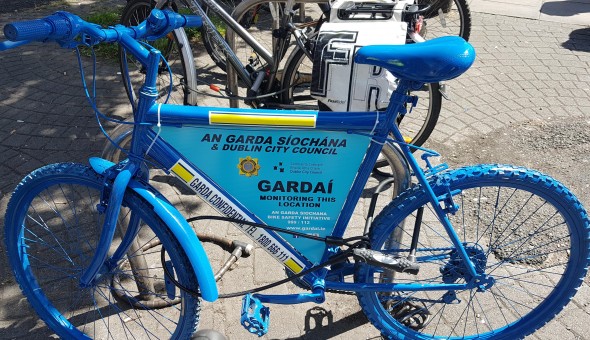 The new schemes are 'Lock it or Lose it' and the 'Blue Bike' scheme

Dublin Bay North TD Seán Haughey has welcomed new Garda initiatives to tackle bike theft. The Garda 'Lock it or Lose it' initiative reminds the public of the importance of taking precautions to keep bikes safe and the 'Blue Bike' scheme is designed to highlight these hotspots
The Blue Bike scheme has been designed to highlight bike theft hotspots by placing a sample bike, painted blue, in such areas with a large sign warning member of the public to lock their bikes and be aware of bike theft. This scheme is intended to achieve three goals: To warn the public that bike thieves are operating in the area; to deter crime by informing offenders that An Garda Síochána are monitoring the area; and to thereby create a safer place for members of the public to lock and secure their bikes. Members of the public are also being encouraged to mark the frame of their bike with their Eircode.
From January 2020 to 23 April 2021 a total of 6,845 bicycles have been stolen across the country, with An Garda Síochána recovering 2,139 bicycles. Many cannot be returned to their owners as their serial numbers are not recorded. A Garda member who comes into possession of a bike that has been marked with an Eircode can call to that address, even if the number has not been registered, thus increasing the chances of returning the property to the owner.
Commenting on this Deputy Haughey said "The Government has committed to investing in cycling infrastructure over the lifetime of the Government. This investment, along with the success of the cycle to work scheme means more people are cycling and an increase in the number of bikes in public places. This is to be welcomed, but unfortunately it means the threat of bike theft has also increased."
"I welcome these new Garda initiatives. The Gardaí have also said they will continue other measures such as surveillance of known offenders, the monitoring of any offenders' current bail conditions and where necessary taking appropriate action of any breach of their bail with the relevant courts, as well as proactive policing both overt and covert of hotspot areas. We need to support and promote cycling and punish those who steal bikes."
In instances where children may be involved in this type of theft, work will also continue under the recently published Youth Justice Strategy 2021-2027 to prevent offending behaviour from occurring and diverting children and young adults who commit a crime away from further offending and involvement with the criminal justice system. The immediate priority within the new Strategy will be to enhance engagement with children and young people who are most at risk of involvement in criminal activity, principally by strengthening the services available through the existing network of 105 Garda Youth Diversion Projects across the State.