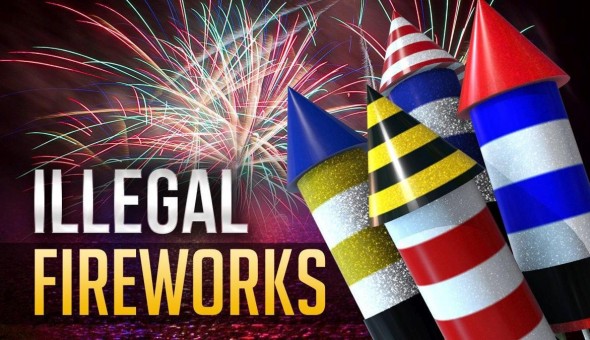 Haughey Welcomes Garda Halloween Fireworks Operation Being Brought Forward by One Month
–The Minister for Justice, Helen McEntee responded to a Parliamentary Question from Deputy Haughey -
 Dublin Bay North TD Seán Haughey has raised the issue of the rise in illegal fireworks in north Dublin with the Minister for Justice Helen McEntee. Through a Parliamentary Question Deputy Haughey stated that in the last few weeks a large number of fireworks were being set off in north Dublin and this was causing "great disturbance to householders." He asked the Minister to request "An Garda Síochána to take appropriate measures to deal with the problem."
Minister McEntee noted the use of fireworks was illegal without a license and should only be used for organised displays conducted by professional operators. She stated in the run-in to Halloween the Department of Justice would be running a safety campaign on the dangers of fireworks and bonfires.
An Garda Síochána run Operation Tombola every year before Halloween to combat the illegal importation, sale and use of fireworks. Gardaí have confirmed that Operation Tombola will be brought forward by one month due to the rise in the use of illegal fireworks in Dublin.
Commenting further Deputy Haughey said "I welcome the reply from Minister McEntee. The use of illegal fireworks is an issue every year before Halloween but this year the problem has started months earlier. Fireworks are hugely dangerous as well as causing a major noise disturbance in residential areas, particularly for pet owners and families with young children."
"Every Halloween we see a rise in the use of illegal fireworks, bonfires and anti-social behaviour. The public can report stockpiled bonfire material to the Parks Department of Dublin City Council for removal. I urge the public to report the use of illegal fireworks and any form of anti-social behaviour to their local Garda Station."
-Ends-
______________________________________________
For Written Answer on : 15/09/2020
Question Number(s): 592 Question Reference(s): 23727/20
Department: Justice
Asked by: Seán Haughey T.D.
______________________________________________
QUESTION
To ask the Minister for Justice if her attention has been drawn to the fact that in the last few weeks a large amount of fireworks are being set of in north Dublin which is a cause of great disturbance to householders; if she will request An Garda Síochána to take appropriate measures to deal with the problem; and if she will make a statement on the matter.
REPLY
It is important to be aware that fireworks, because they are explosives, are regulated under national and EU legislation and can only be imported into the country under licence and stored and sold in accordance with the explosives law.
Government policy restricts the availability of all hazardous fireworks to the general public and licences under the Explosives Act are issued by my Department only for the importation of fireworks which are to be used in organised displays conducted by professional and competent operators.
Having said that, I am all too conscious of the numerous incidents, and sadly some serious accidents arising from the use of illegal fireworks and of the concerns arising for local communities as a result of their improper use.
Every year as Halloween approaches, my Department runs a safety campaign aimed at ensuring the public is aware of the dangers of illegal fireworks and bonfires. We work with various stakeholders and partners to ensure a message of safety and compliance reaches as a wide an audience as possible.
In addition to this work undertaken by my Department, An Garda Síochana engages in "Operation Tombola" which aims to combat the illegal importation, sale and use of fireworks.
The Garda Commissioner has informed me that under Operation Tombola, each District will put in place an Operational Plan to tackle the sale of fireworks including through:
•Combating the importation, sale and distribution of illegal fireworks, through intelligence led operations,  visits to local car boot sales, searches and seizures of fireworks.
•Liaising with local authorities and Fire Services regarding the provision of official,  supervised bonfire sites,  the policing of these, and the identification  and removal of stockpiled bonfire material and abandoned vehicles from other locations.
•Promoting awareness of  the danger associated with the improper use of  fireworks and unsupervised  bonfires through the use of the media, social media, school visits and information leaflet distribution by members and the Crime Prevention  Officer.
•High visibility policing  of the Halloween night celebrations, i.e. beat,  bike and mobile patrols, thus preventing damage to property, injury, trauma for the vulnerable and the elderly, and  general loutish behaviour.
•Utilising the Divisional Public Order Unit on Halloween Night.
Operation Tombola also focuses on preventing associated public disorder and anti-social behaviour through the incremental deployment of resources, including Garda Public Order Units to augment local plans as appropriate.
As well as Part 6 of the Criminal Justice Act 2006 which gives An Garda Síochána the power to make arrests in relation to the possession of unlicensed fireworks, a number of strong legislative provisions are available to Gardaí to combat anti-social behaviour more generally and include -
•the Criminal Damage Act 1991;
•Criminal Justice (Public Order) Act 1994;
•the Criminal Justice (Public Order) Act 2003; and
•the Intoxicating Liquor Acts 2003 and 2008.