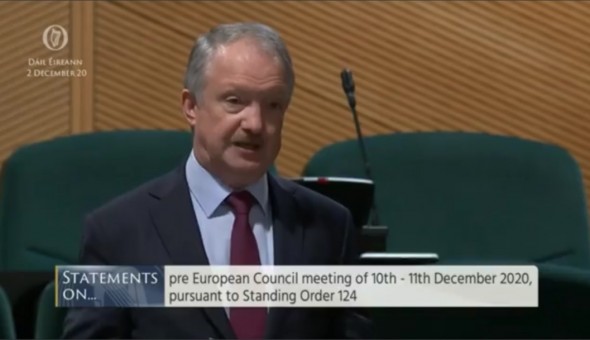 Dublin Bay North TD Seán Haughey has raised the possibility of traffic chaos occurring in Dublin when the U.K. leaves the European Union on January 1st. Haughey made the remarks in the Dáil as the U.K. and the EU continue trying to reach a post-Brexit trade deal.
The Chief Executive of Dublin Port, Eamonn O'Reilly recently said there were plans to allow HGVs exiting the southbound bore of the Dublin Port Tunnel to be U-turned to the northern bore in the event that the port congests.
Speaking in the Dáil, Haughey said "There are reports of concerns about traffic delays occurring as a result of congestion at Dublin Port after the 1st January. Delays in carrying out border checks could result in a backup of trucks in the Dublin Port Tunnel which could cause traffic jams on the M50 and the surrounding road network in Dublin. That must not be allowed to happen. Irish Ferries and Stena Line should be asked to stagger ferries arriving from Holyhead and Liverpool into Dublin Port. It is my understanding that Transport Infrastructure Ireland has also raised these concerns. An overflow parking facility for lorries has been earmarked for Dublin Airport.
"The Department of Transport, Transport Infrastructure Ireland, the Dublin Local Authorities, the Garda, the Dublin Port Company and the Revenue Commissioners must all work together to try to resolve this issue. There is nothing surer than if the traffic in Dublin starts to snarl up, it will be one of the most immediate effects of Brexit that our citizens will experience. We need to prevent that."
Negotiations continue ahead of this week's crucial European Council meeting.