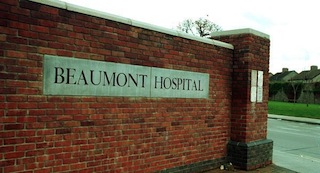 Govt failing to meet its own commitment on new ED at Beaumont Hospital – Haughey
-       Design of new ED already over a year late -
Local Fianna Fáil TD, Sean Haughey has said that the government's failure to deliver on its own commitment to develop a new emergency department at Beaumont Hospital is unacceptable and a severe lack of foresight.
Deputy Haughey raised his concerns about the significant delay in developing a new emergency department at Beaumont Hospital directly with the Taoiseach during a Promised Legislation debate on the floor of the Dáil on March 9th.
"The hospital, one of the busiest in the country and which opened in 1987, treats in excess of 45,000 patients every year. Yet there has been no major investment over the past 30 years," he commented.
"It is operating at maximum capacity while wards are forced to close to facilitate essential temporary refurbishment. Staff are being forced to work under difficult and stressful conditions with limited space and resources to effectively treat patients. The facilities in the ED at Beaumont are in urgent need of investment and improvement.
"As it stands, little or no progress has been made to meet the commitment outlined in the Programme for Government to construct a new modern emergency department that is fit to deal with the needs of a large growing population in North Dublin and beyond.
"Minister Harris has confirmed to me that funding for preliminary design works will be made available in the HSE Capital Plan later this year, over 12 months behind as promised.
"In fact, commencement of a design plan for the ED is already over a year behind and therefore the construction, which was due to begin as part of this year's capital plan review will be delayed even further. This is simply not good enough.
"Our community has a large elderly population and these are the people that primarily rely on the services provided in the ED but they are fearful to attend the department given the current pressure it is under.
"The need for a new ED in Beaumont is a major concern for the whole area. As overcrowding goes on, the numbers of those on trolleys indicate that the health system continues to underestimate the challenges arising within the ED at Beaumont.
"We are nowhere near turning the sod on this project let alone opening its doors. Lives are being put at risk, yet it is clear that there is no plan in place to complete this project," concluded Deputy Haughey.